So, you are coming to Kaua'i and you're the adventurous type! Awesome! You have chosen the right Hawaiian island for you. Each of the Hawaiian Islands really has its own identity and Kaua'i is definitely for the adventurist.
Camping Kauai can be one of the most amazing experiences you may ever have. Kaua'i is such a beautiful island and is really perfect for those looking to experience the natural beauty of Hawaii. However, camping in Kauai can also be confusing and quite a challenge to navigate.
First, let's break down the types of camping on Kauai – Mauka to Makai (Mountain to Ocean)
P.S. All campgrounds close at certain periods of the week for maintenance so plan accordingly. These are listed on our links and under campground descriptions.
P.S.S. If you are traveling from another Hawaiian island please familiarize yourself with ROD ( Rapid Ohia Death) so as not to further spread this horrible tree disease that is killing our Ohia trees.
BACKPACKING
There are several trails and areas on Kaua'i that are designed with the backpacker in mind. Most notably the Kalalau trail along the Nā Pāli coast. At 22 miles round trip, this is one of the toughest trails you will probably ever hike. It also happens to be one of our most dangerous trails in the United States. This trail requires a permit so plan this hike way in advance (4-6 months), but we will cover this topic later. At the moment this trail is closed due to some historic flooding that occurred April of 2018.
The pros to backpack camping Kauai
Even though you are on an island you can still get real solitude if you are up for challenges. Hiking in general here on Kaua'i is a bit more extreme that what many are use too. However, the rewards can be days with solitude in one of the most beautiful places on earth.
The downsides to backpack camping Kauai
Gear! If you are like us we are pretty picky about what we have in our packs and what works for us. There are companies on the island that provide rental gear but honestly pay the extra 50 bucks and check your backpack and bring what works best for you! You are here to enjoy Kauai and explore it and rental gear is probably not going to be the best fit, smell, or most comfortable for you personally.
If you happen to forget something or need an extra piece of gear, then rent or buy that. Camping stoves are sometimes an issue with shipping, so Walmart or Ace hardware has the fuel and stoves or there are a few places to also rent. We actually had no problem shipping out our stove along with all of our other gear in our backpacks. Just make sure it is fuel free and clean.
Permits are required for all camping in Kauai!
TENT CAMPING
Just like backpack camping, Kaua'i tent camping can give you some solitude from the upper elevations of Kaua'i to the beachside camping areas. There are several camp areas around the island that we will list a little later. The key to tent camping Kauai is a few things really.
1. Follow the rules
I know you just want to get away from all that! That's why you came to Kauai to vacation, to unwind, and no responsibility. Well trust me when I tell you that your vacation is going to be much more enjoyable if you follow the rules.
Reduce the stress and get your camping permits in advance, have them printed out and make sure that they are visible on your tent. Follow these rules and you will get to sleep later than 5 am when the authorities come through to check for permits. I promise they will, and they have no reservations about waking you up to get them!
Make it easy on yourself and the permits and get everything completed before coming out to Kaua'i. If you aren't able to get them before arriving on Kaua'i, then try to get them when you first arrive on the island. Also, if you need to get your permit printed out while on Kauai then there are a few UPS stores that can accommodate. (provide a link)
2. Weather
Understanding the weather here is usually pretty simple. Every day you will see rain, and every day you will find sunshine! Yes, this is a tropical island and almost every day it will rain but in most areas that's a quick rain shower and then it's gone, and you can enjoy the beautiful rainbow left behind. Expect wind also, there is usually a nice sea breeze along the coast and even in the upper elevations.
Most days your dryer camping will be on the South shores to the western most part of Kauai.  Those camp areas include Salt Ponds, Lucy Wright, both county camp areas. And then Polihale which is a state camp area.
The eastern part of Kauai will be a bit little rainier some days but not always. It's usually a great place to stay and one of our favorite areas due to its beauty and location.  This area goes from Lihue to Anahola and includes Lydgate which is a state park, and Anahola beach park which is a county park. There is also a private camp ground Called Kumu Camp Beach Retreat.
The north shore of Kaua'i is simply unparalleled in its stunning beauty. However, most days you will see a little more rain here than the previously listed areas. This area runs from Kilauea to Haena, and includes Anini Beach Park, Hanalei Beach Park, and Haena Beach Park all county camp areas. There is also a private camp ground called the YMCA Camp Naue in this region.
Upper elevations of Kaua'i
Yes, it can get somewhat cool up here especially during the winter months. A jacket and good sleeping bag is a must at times. It also sees it fair share of rain, however this area has some of Kauai's most prestigious hikes and scenic beauty. Camping areas here include Koke'e State Park and a private camp ground Camp Sloggett.
Notes:
*Rain apps and forecast usually never tell the true story here, so although it's important to check the weather it's not always the most accurate here in Kaua'i. The whole island is included within the forecast and that includes one of the wettest places on earth, so it will almost always show rain in the forecast. We like to use webcams around the island to check conditions.
*We do want to note that February and March tend to be a bit rainier overall than the rest of the year so that's something to keep in mind if your vacation time is flexible.
CAMPER VAN RENTALS
There is a multitude of vans and trucks that you can rent on Kaua'i. Anywhere from a luxurious camper van to a beast 4×4, to the older VW vans, to a straight up scary van that you would want to protect your children from getting anywhere close too! Just kidding but seriously there is every type of van & truck available on the island! Some are equipped with absolutely everything you can possibly need, and others are simply a blow-up mattress in the back of grandma's minivan with a cook stove.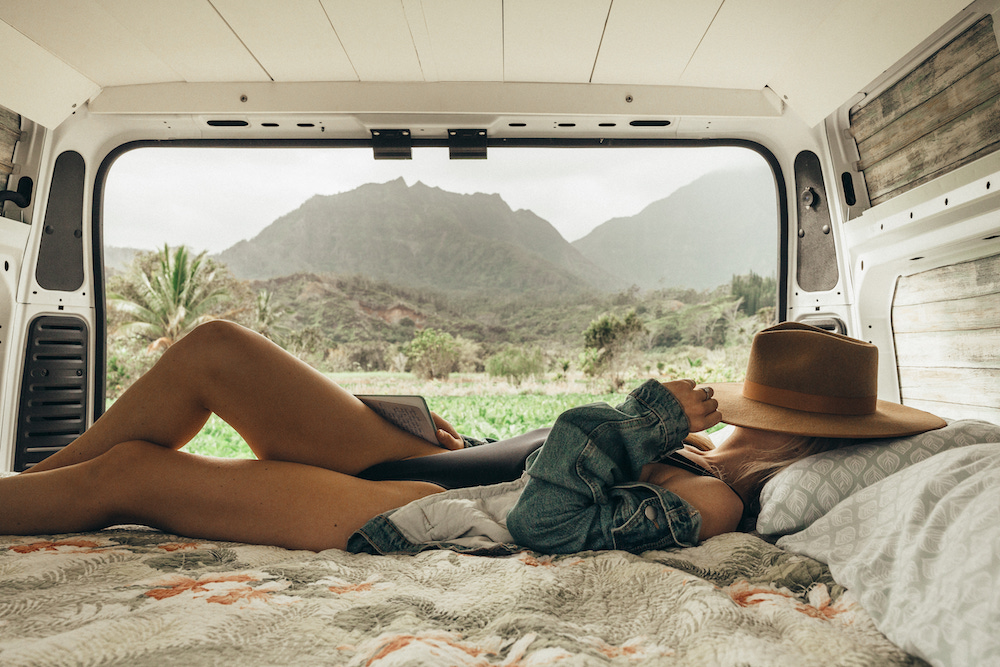 Our best advice is go with a reputable company and rent a van that is reliable! You wouldn't rent an older room to stay in if you can get a brand-new room/resort for the same price, right? Newer = safer more reliable!
Think about this for a minute! Kaua'i is a small island and accommodations are limited. Meaning; On the mainland, you can jump in a vehicle and just about always find a hotel somewhere. This is not the case in Kaua'i! Accommodations book up here sometimes months in advance! You really need to plan ahead and get the best place for what you want to do.
You spend a lot of money on airfare just to get to Kaua'i. We understand, try living here! However, accommodations are not where you want to save on this trip.  Why would you spend all that money to get here and then have your truck or camper van rental break down, or be not exactly what you were thinking it would be? Chances of making other accommodations are pretty slim. Choose a reputable company and think about the overall condition, size, features, & age of the camper van.
The pros to having a Kauai Camper Van
You are getting your rental van/truck and your accommodations in the same price at the same place. Most reputable companies here will offer free pickups and drop-offs within reasonable hours at the airport. If you are leaving late or arriving late to Kaua'i you may have a small additional fee. But having your Kauai transportation and accommodations rolled into one makes it super easy and economical!
By renting a Kauai Camper Van you are going to be able to have all the luxuries of your room right with you! There is no coming off the trail to drive an hour or two. Yes, traffic on this beautiful island is a bit congested (understatement)!
A camper van also lets you be where you want to be. Close to the trail or close to the beach. By renting a Kauai Camper Van you camp close to your next adventure. Instead of waking up at 5am to drive to the trailhead at 6:30. Wake up beside the trailhead, get that extra sleep, and avoid the traffic and the crowds on the trail.
By combining accommodations and your vehicle transportation your saving a tremendous amount of money and yet your camping in the prime locations of Kauai.
The downside to renting a Camper Van
There are a few things to consider when renting a camper van or truck rental that some could call downsides.
The camper life is not for everyone but it's definitely for some! If you are the type that's not up for adventures, we suggest you would probably be happier in a resort. Although some camper vans are extremely nice & luxurious the benefits of staying in the camper van are being mobile and flexible for the adventures you are looking for.
Also, camp areas in Kauai are not like mainland campgrounds!
There aren't RV's on Kaua'i and there aren't RV type hookups with electricity and plumbing and showers on Kaua'i. You are self-contained in the vehicle that you decide is best for you.
Bathrooms will be at the beach parks or camp areas, not in the camper vans. Showers are also usually on the beach, but some are in a building, so taking a shower is something you may be doing in your swimsuit. Hot showers aren't impossible to find while camping in Kauai, but they are rare and limited. Check with your host on these options! A few Kauai camping areas do have them.
If you have a lot of electronics, drones, cameras, phones etc. make sure your Kauai camper rental is equipped with auxiliary power, so you can keep these charged throughout your vacation.
A few of Kauai Camper Vans rentals offer this at no additional charge while others either charge extra or simply don't have it.
Also, know how much power you are getting when renting a camper van, are you bringing a camera, drone, laptop? You are going to need enough power to keep your devices charged without draining your vehicles battery.
One question that comes up a lot is "Can we park just anywhere?" the answer is absolutely not! You must camp in designated camping areas. Camping permits are really so cheap here, take the stress away and just follow the rules. You will have a much better experience camping in Kauai.
Some tips to keep in mind when choosing your Kauai camper rental 
Can you drive a straight shift vehicle? If not make sure you get one with an automatic transmission.
Does your Kauai camper van have air conditioning? No camper van is going to offer AC while camping, but while driving it is available on some Kauai campers. For us that's a no brainer for Kaua'i! It gets hot here sometimes guys! You want that chance to cool off when you come off the beach or trail.
Reliability! This is a big one for us! Although everything mechanical can break down its important to look at the vehicle you are trusting your vacation with. How old is the vehicle? Is it in good repair? How can you tell? Stick with the reputable companies and newer vehicles, ask how many miles does the vehicle have! Breaking down in your vacation Camper van is not going to make for a fun vacation! Saving 30 bucks a day on your camper rental is going to seem pretty silly if it doesn't run right?
What comes with your camper van? Do you just get the air mattress with a blanket and a stove or does the camper van come with everything you need?  Look out for add-on charges!

Some companies provide everything you can possibly need while others charge a little more here and there to get those same necessities.  The reputable companies have done their research and they will provide the things you will need.
CABINS AND COTTAGES
There are some cabins, cottages and yurts that are available on the island. Most notably the cabins at Kokee & Camp Sloggett along with a few at the Kumu Camp Beach Retreat in Anahola. We personally have not stayed in these so do some due diligence before booking these to stay at.
In conclusion camping Kauai can be an amazing experience in any way you choose. Do your research, make your plans way in advance, and make sure to get your camping permits! You will thank us!
As always, nothing but love and we hope to see you in Kaua'i.
Mahalo Y'all
Brian
Hawaii State Certified Tour Guide